The design details behind our stand at Retail Design Expo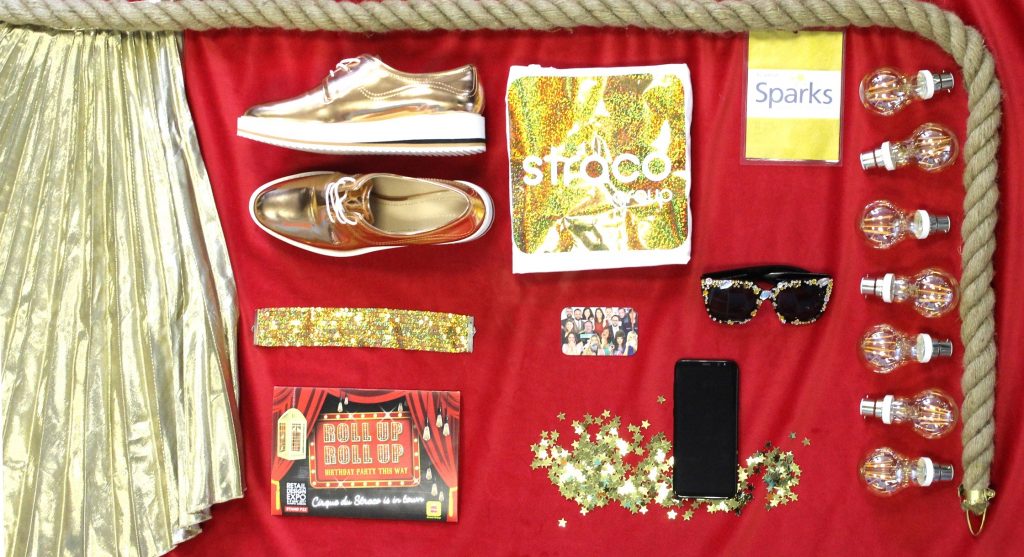 The retail design expo offers all those involved in the industry a chance to showcase their latest innovations to provide inspiration to those responsible for the marketing, branding, visual merchandising, architecture and shop-fitting of retail spaces.
As a long- established recruiter that specialises in this sector, we turned our hand to designing our own stand for this years Retail Design Expo so that we truly stepped into our clients' shoes. Welcome, Cirque du Straco.
Inspiration
It all starts with an idea, and with exhibition plans in place to celebrate 20 years in retail recruitment we began our creative process by asking how do we help put together the right team of people for our clients?  And where have we helped make career wishes come true? Welcome cirque du Straco. A stand concept that first began taking inspiration from a few of our all-time favourite movies.  Take a look at our initial mood board.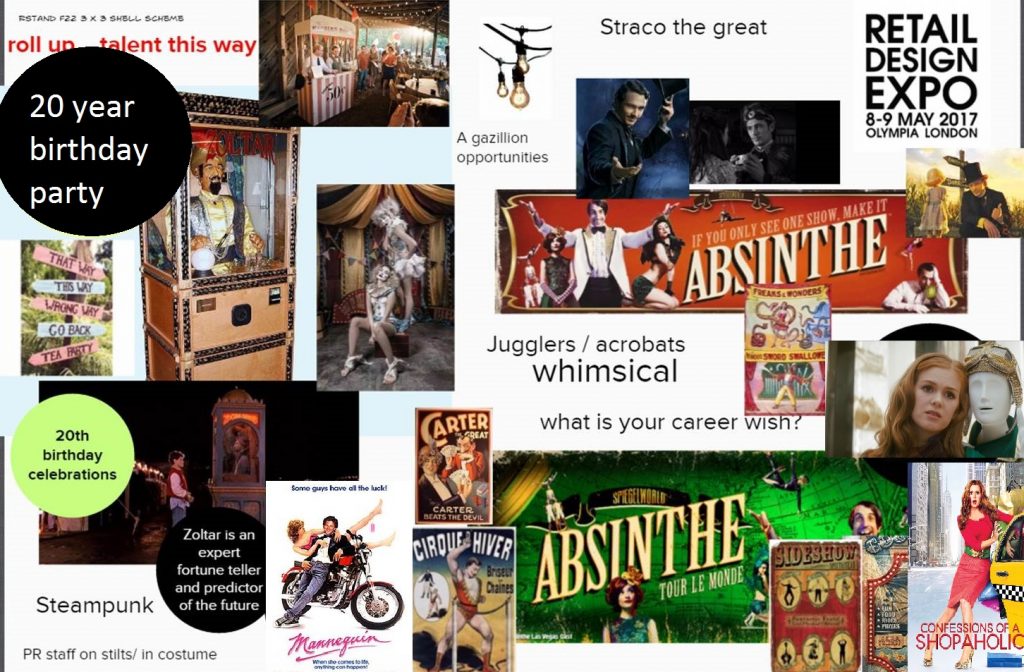 Exhibition design
With a shell scheme exhibition space booked, this posed a challenging environment and the easiest option would have been for us to throw together a space with a table and chairs and a few pop-up banners, but that didn't seem like much of a party to us (and who likes easy?). So, we took pen to paper and came up with this initial line drawing. Ta-da.
We needed something that matched our fun & lively brand, that made visitors pay attention, but ultimately it had to be cost effective and easy to install ourselves. As recruiters into events & experiential; we also wanted to create an experience, so we considered everything from music to popcorn, and from live theatre to augmented reality. Our exhibition space then evolved and (with the help of a talented graduate on our books) began looking like Straco's very own shop in shop concept.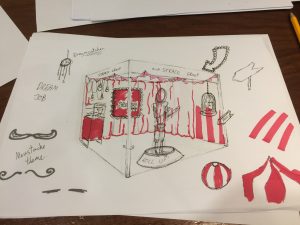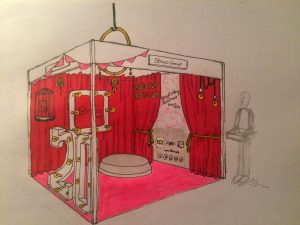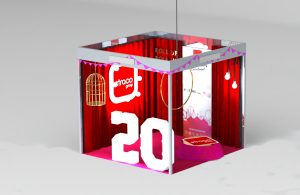 Within the walls of a pop up store
From design to construction, and from shop-fitting to point of sale, Straco provides specialist recruitment for all areas of retail interiors and we wanted to portray that in our stand design. So, by working together with some of our clients & friends in the industry we began to use products normally used within the building envelope of a store by placing their products in our exhibition space.
Synergy,  leading distributor of Phillips lighting to retail stores in the UK supplied gold filament bulbs for our specially designed sign. Event, exhibitions & retail interiors company DMN Design Build supplied our glittery podium so that our mannequins had a platform to perform. Our friends over at Pure Retail put their cardboard engineering skills to excellent use by supplying a gold metallic birdcage to complete our quirky but opulent Cirque du Straco theme.  And last but not least, our friends over at SMP Group worked with us on point of sale, so that we could communicate the right messages using a quirky directional sign to navigate visitors from the party on our stand to the big party over at the SMP Champagne bar where our experiential activities continued.
Retail theatre
With immersive environments playing a key part in the changing face of retail we asked ourselves how can we make visitors to the show want to participate with our birthday celebrations? How could we create an exciting and engaging experience that visitors would remember and go on to talk about. And how do we complete our cirque themed party. Roll up roll up, live mannequins complete with acrobatic performances was the way to go and provided us the best chance of providing visitors the opportunity to participate in a one-of-a-kind experience and thus engage with our brand. See how our live mannequins came to life in this video and how they came to life as the Official Artists of the SMP Champagne Bar Big Party.
An omnichannel experience
To bridge the gap between the physical exhibition and digital world, we engaged with snapchat geofilter advertising so that visitors to our stand, just like many retailers are starting to do, could use a bespoke geofilter overlaid with branded graphics as part of our marketing campaign. This meant we were able to engage with people that knew our brand, gain new followers and also gain brand recognition within the geofenced area for people that had never heard of Straco before. As Snapchat is now used by 150 million people per day globally, with 72% of those snapping whilst shopping it was an obvious choice so that our live theatre could be caught on camera throughout the two-day event.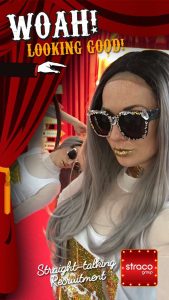 A touch of Sparkle
At Straco, we always try to do our bit, but to mark our 20th birthday year we have nominated Sparks as our charity of the year (donations kindly accepted by clicking here). As such, we added a touch of Sparkle to our stand concept, with a gold metallic and sparkly theme prominent in every detail. From gold filament bulbs, to a glittery podium to sparkly star confetti hidden inside our invitations.
The fashion details
As many of our clients work in the fashion sector, we didn't want to throw any old thing on our mannequins so we drew inspiration from some of the looks we saw on the Gucci runway at Milan Fashion Week.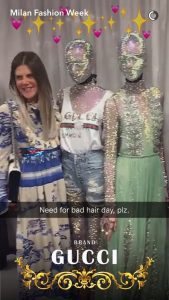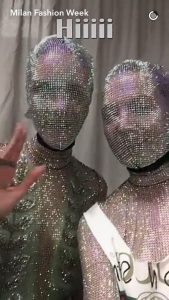 Did you see our mannequins sparkle at RDE 2017? If not, check our how we made our sparkly move here 
DROP YOUR CV HERE
If you don't see a role for you, still send us your CV because new opportunities arise all the time and you might just be what our client is looking for.