Johnnie Walker, Princes Street – A Reason to 'Keep Walking'!
Last week our Senior Recruitment Administrator, Mary, visited Edinburgh and had the pleasure of trying out the new Johnnie Walker experience on Princes Street. Keep reading to find out Mary's thoughts on the day.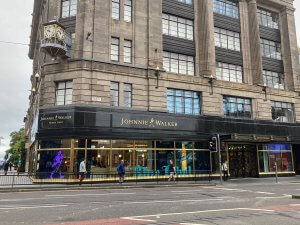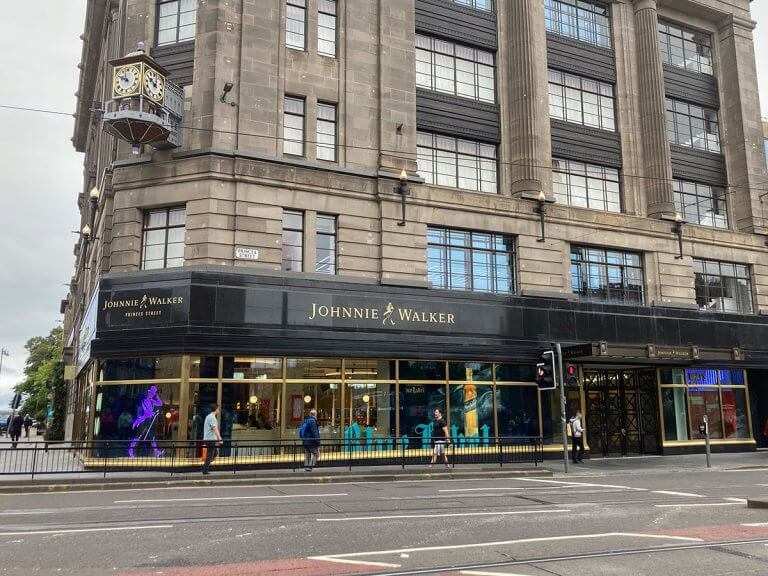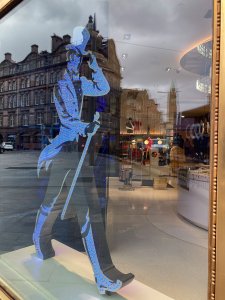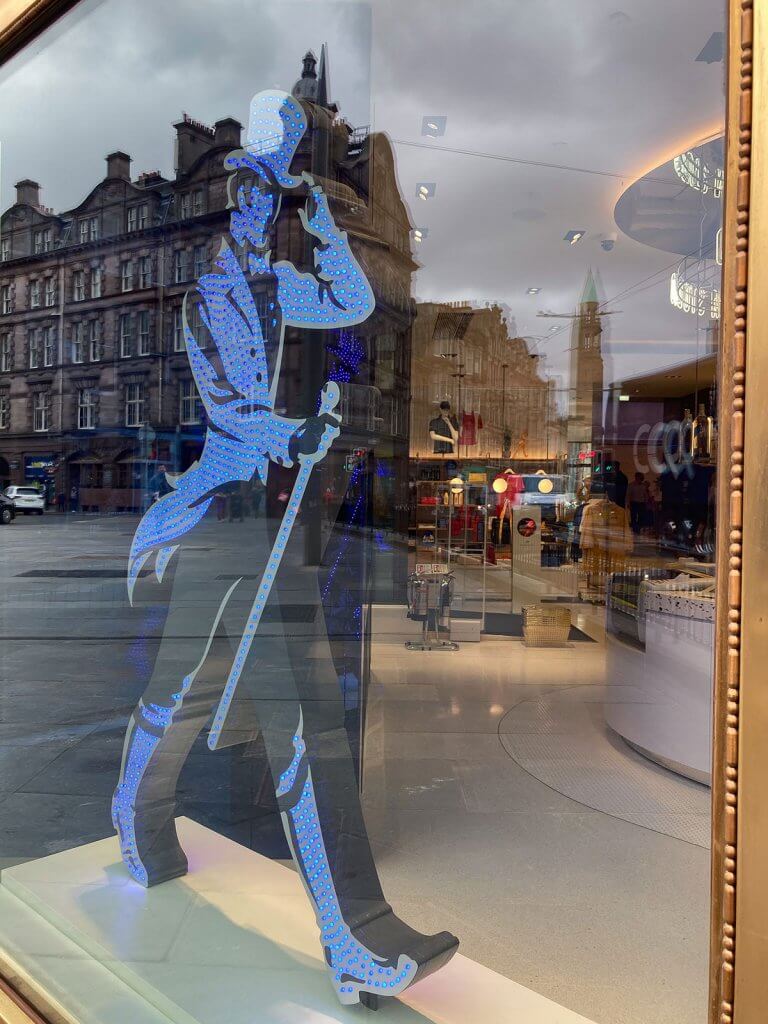 As a whisky fan, I just HAD to visit the brand-new Johnnie Walker experience. Formerly home to House of Fraser, Diageo have spent over 4 years and £185m to complete the project; safe to say it was worth every second and penny spent.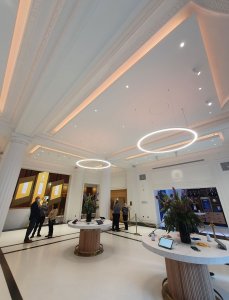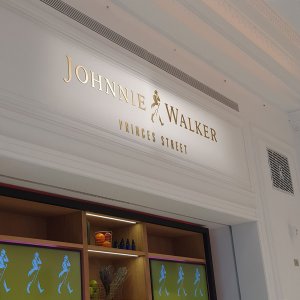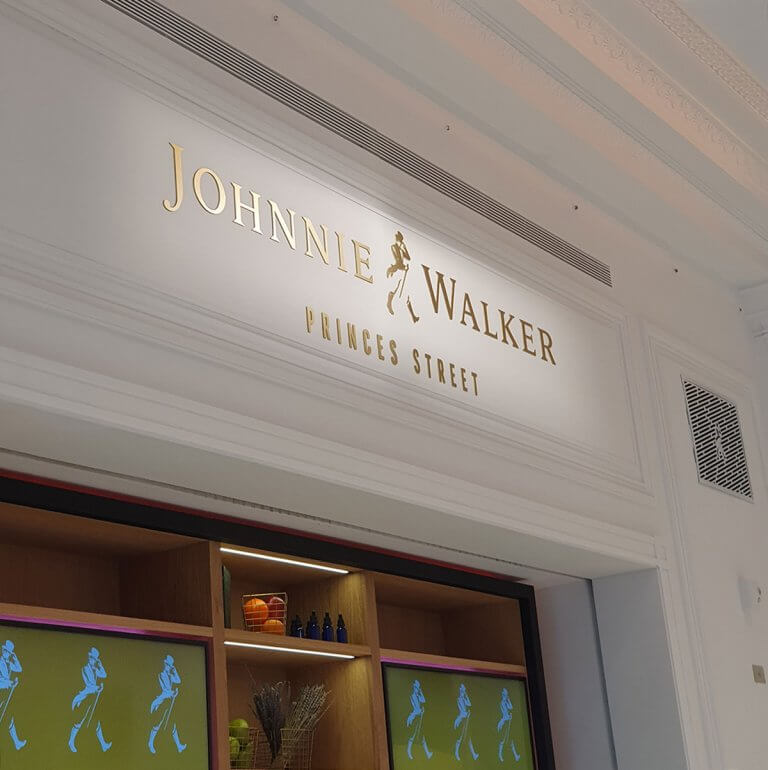 The first thing that grabs your attention outside is the branding. The infamous Johnnie Walker 'Striding Man' logo, tastefully lit in the window, paired with a sleek black and gold colour scheme, all work completed to such a high standard. It really stands out, even on a prestigious street, like Princes Street. It certainly makes you stop and look, even if you're not a Whisky drinker.
The experience itself begins on the outside, going to a separate door to start the tour. We were greeted by a smartly dressed doorman, who welcomed us into the building. Having already taken an online quiz, we were assigned coloured wristbands based on the type of whiskies we'd likely enjoy (the options being Spicy, Fruity, Woody, Peaty, Malty, and Fresh). Next up we were introduced to our guide – Leonardo from Italy!
Following a short introduction, it's up two floors where a new guide is waiting for you. Here we are encouraged to take photos of the experience and share them on social media using #JWprincesstreet.
What potentially could have been a standard sit-and-listen section, is instead transformed into an interactive section. Complete with two treadmills for the guide to walk along, intelligent sound, lighting and moving props to complete the show. I would have loved to have been a fly on the wall for the rehearsals!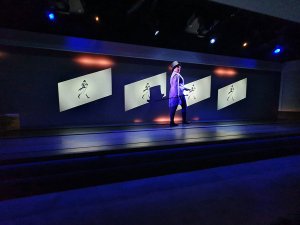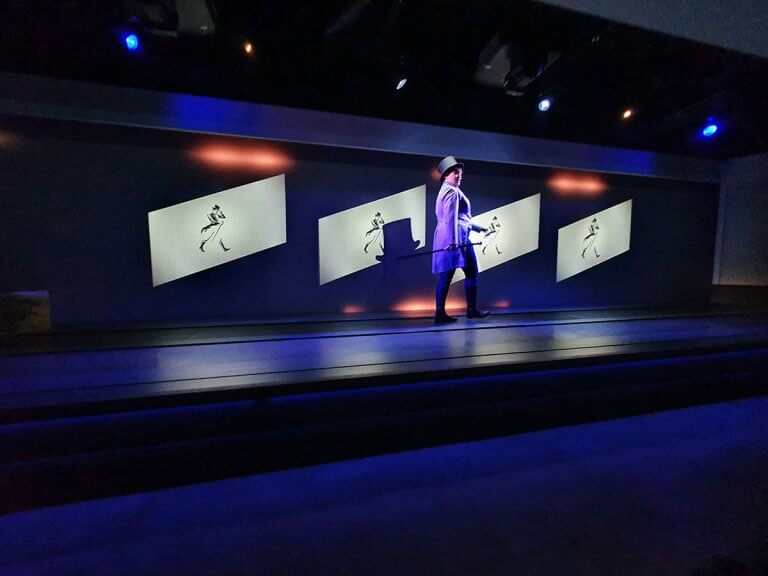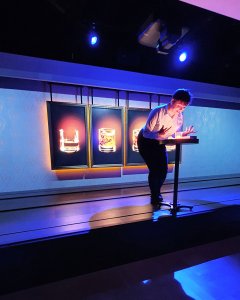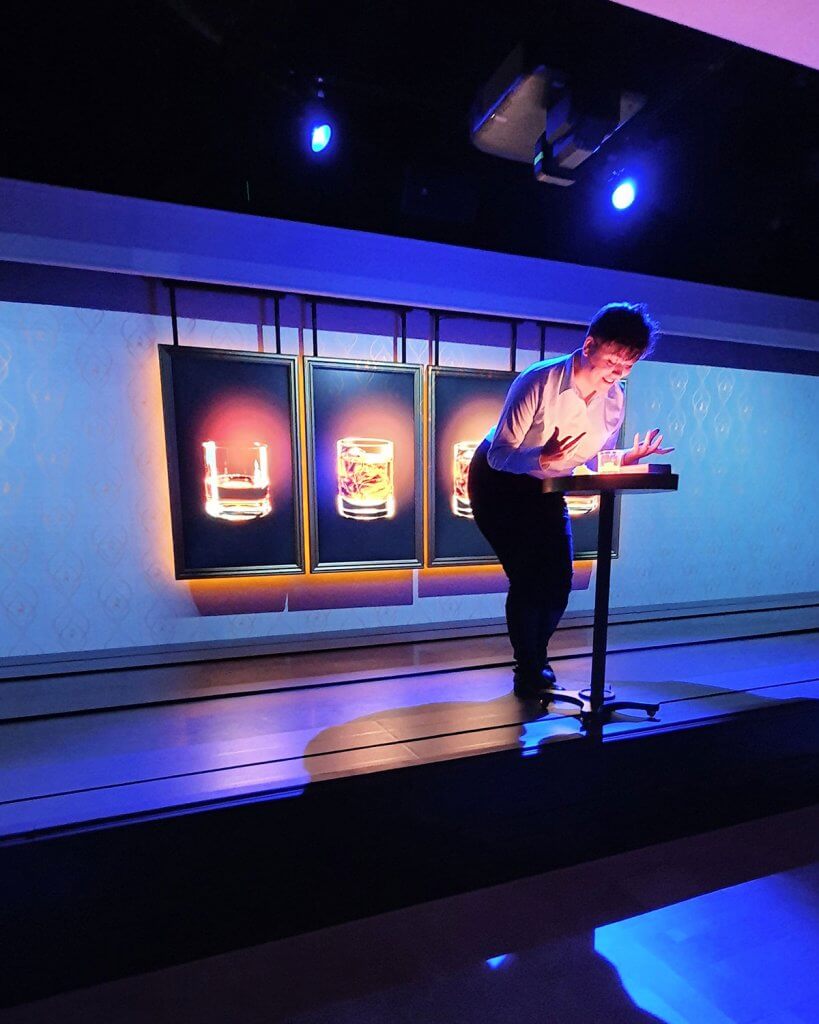 Having learnt about John Walker and his famous whisky, it was time for the first drink. This is where the wristbands come in. Select a glass that matches the colour of your wristband, then a smart chip on the bottom of the glass communicates with the drink dispenser. It mixes you a soda and whisky drink, based on your preference.
A menu at your table provides you with all the information you need to garnish your drink, to bring out the best in the flavours.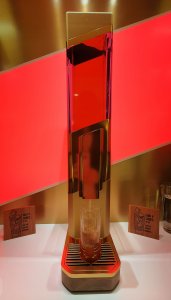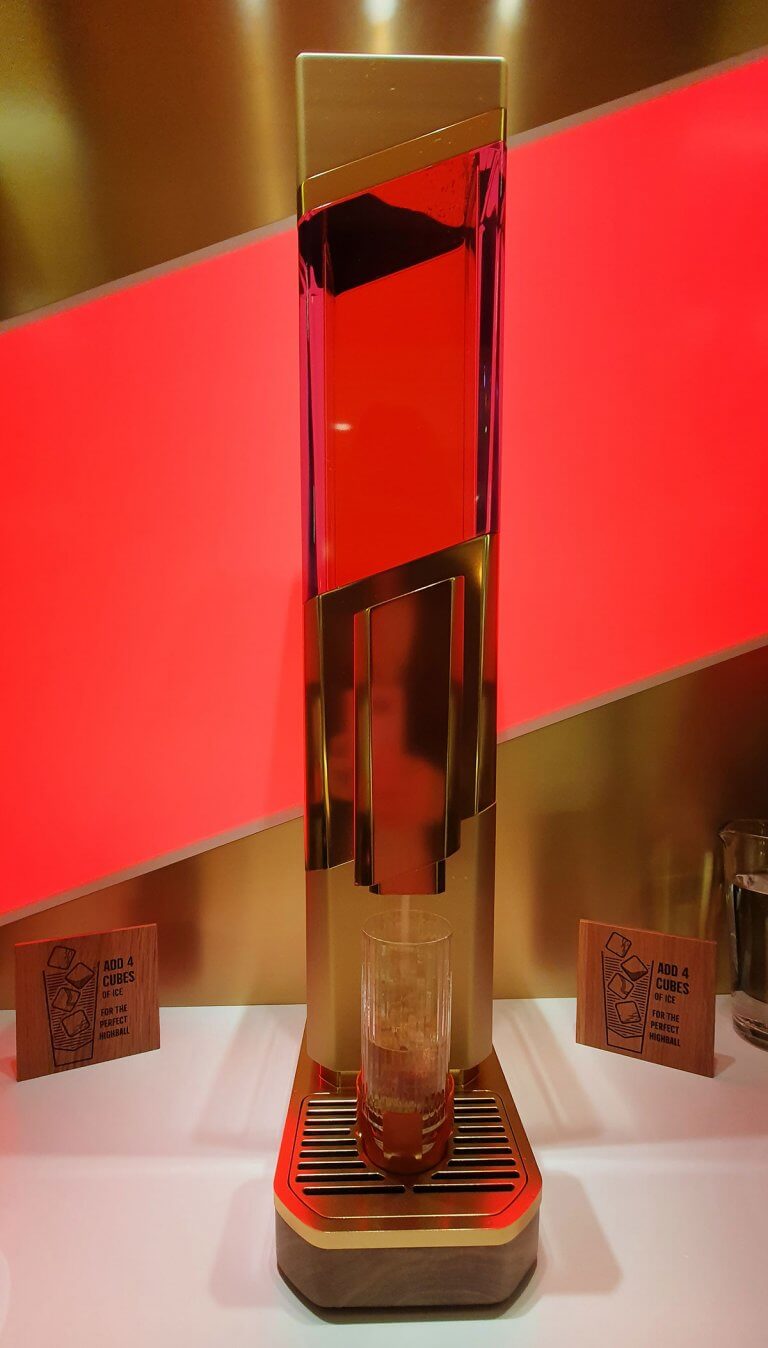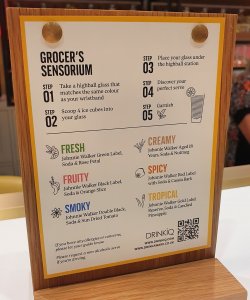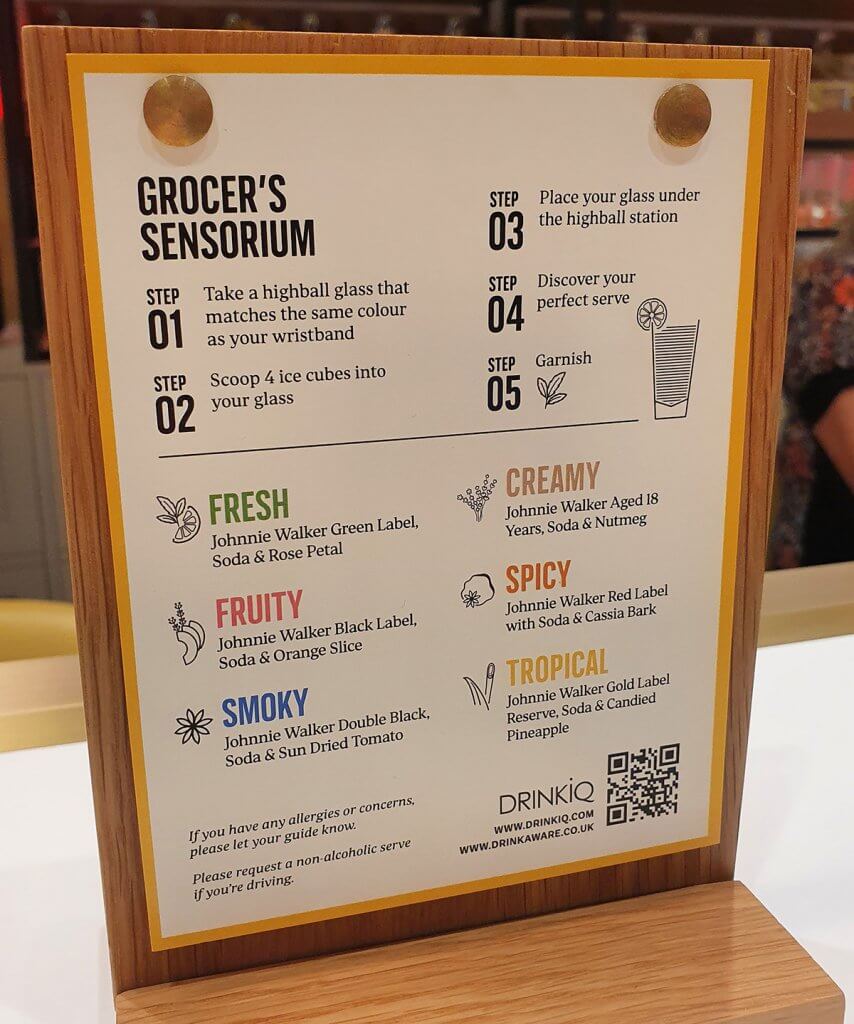 After making your drink, you are lead into the next room, which was one of my favourites. It's time to learn about the process of making the perfect whisky. I'll be honest, I never knew or appreciated how much work goes into making whisky – but Johnnie Walker makes it look easy.
Not many people know this, but whisky isn't just one flavour or style. So if you don't like it, you might not have tried the right one yet.
As we found out in the next room (complete with more interactive lighting of course), the process of making whisky is a complex and it can easily go wrong. It's during this process that the creator decides what flavour they want the whisky to be. As the saying goes "Today's rain is tomorrow's whisky".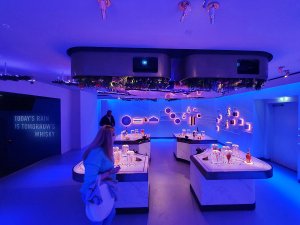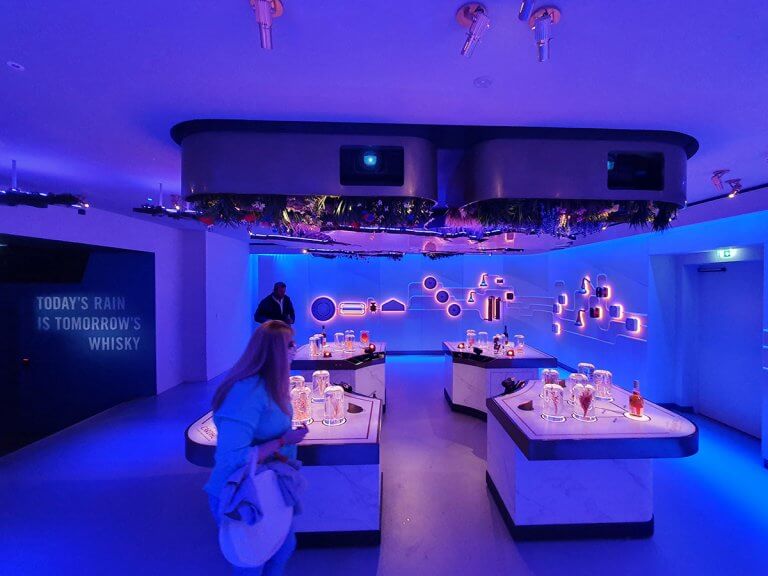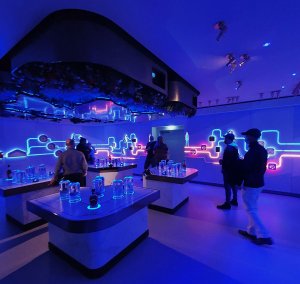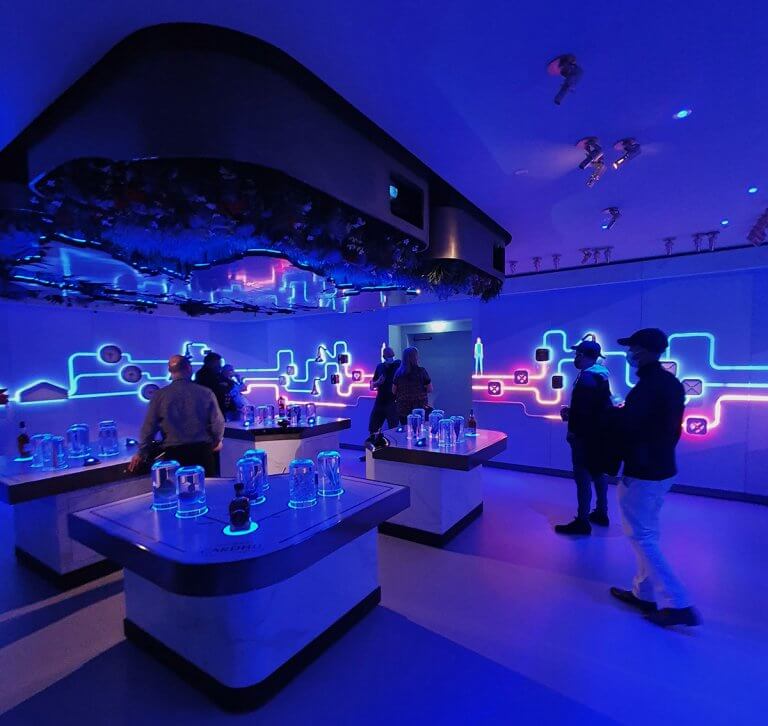 Once again, it's off to – you guessed it – another room! The flavour wheel makes another appearance here. I've mentioned it several times, but the use of lighting and effects really takes this experience to another level. Without them, it would be a standard show and tell – which is clearly not the vibe Johnnie Walker are aiming for.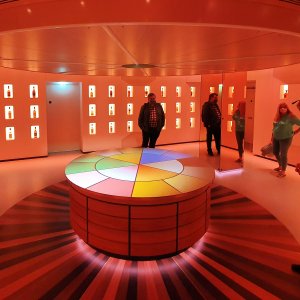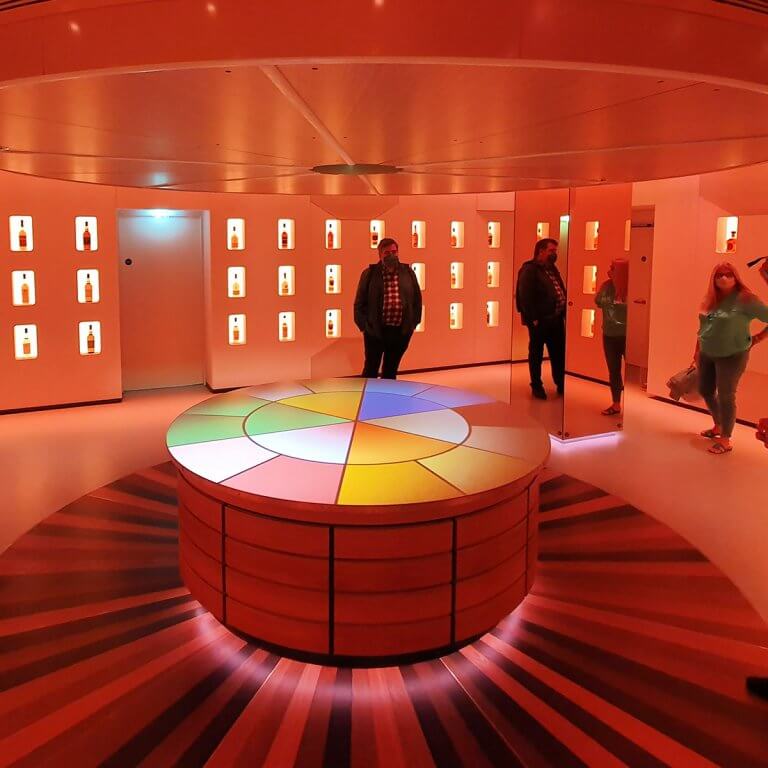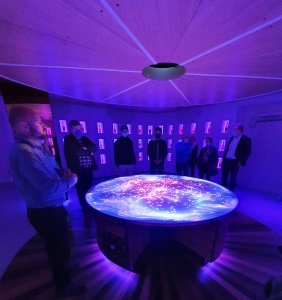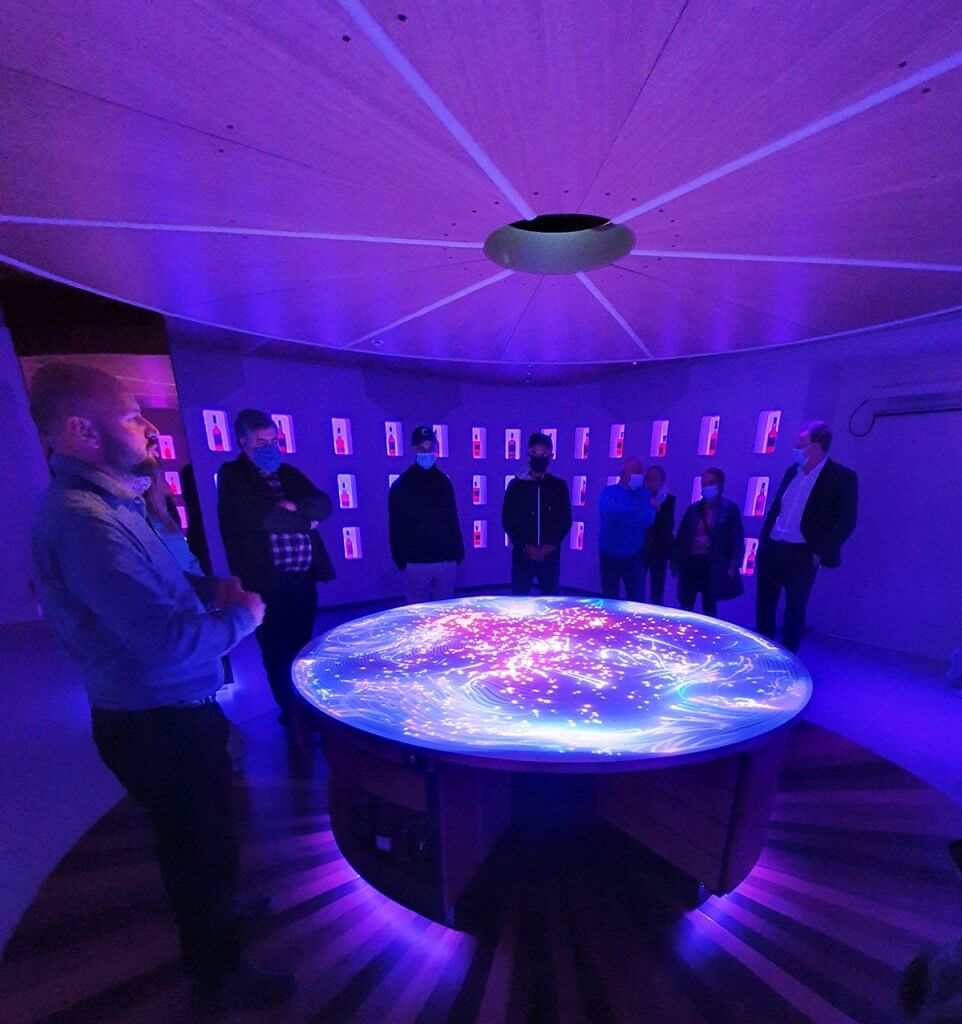 Next, we learnt about how the different whiskies under the Johnnie Walker brand, fit into the flavour categories.
Now we're into the final stage of the tour. Another two drinks, this time a choice of an Old Fashioned or a High Ball. At this point you can either stick with your assigned flavour category, or like me, try something different.
Generously you are given two more drinks on a very smart branded tray. This is the last room of the tour, but you don't feel rushed to finish, there's plenty of time to enjoy the drinks.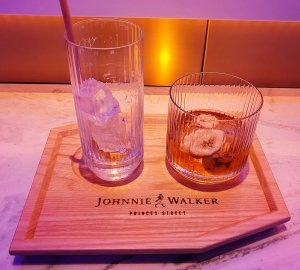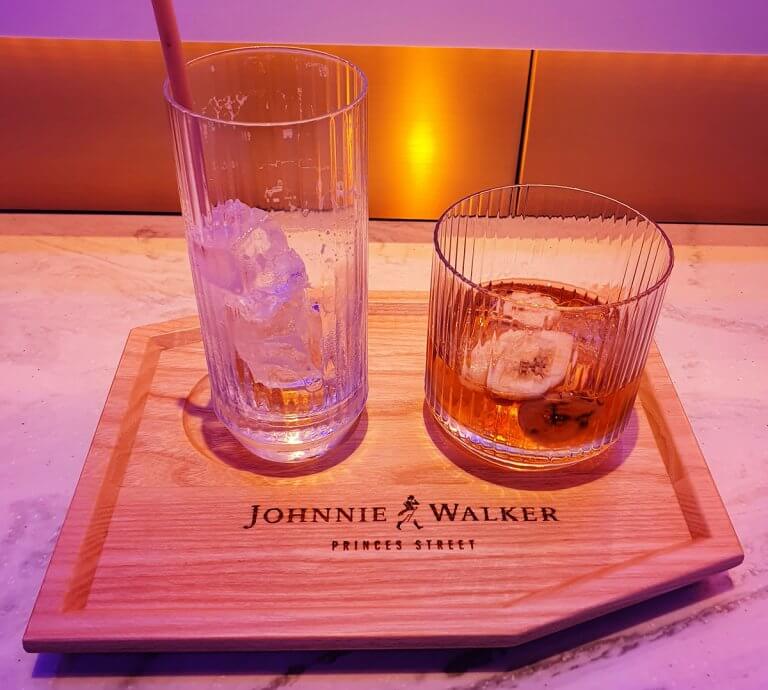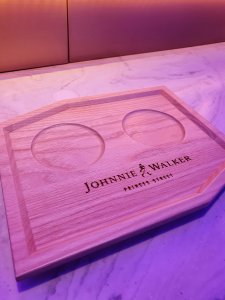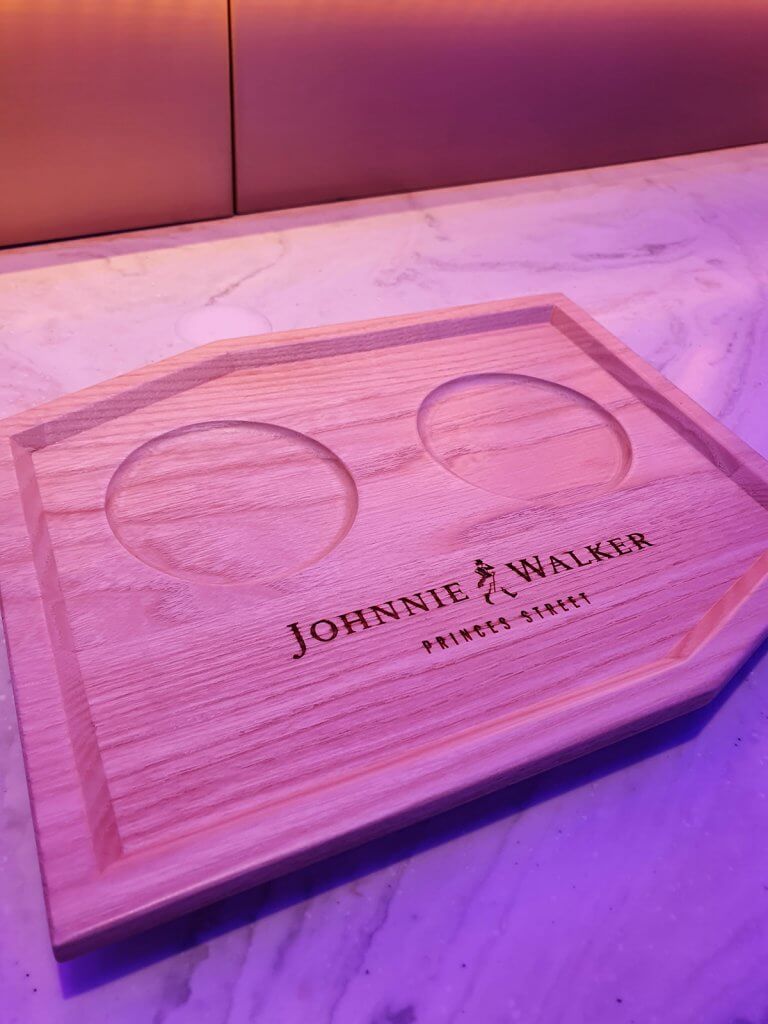 I loved the top hat stirrers! Definitely a missed opportunity, not having these available to purchase in the shop.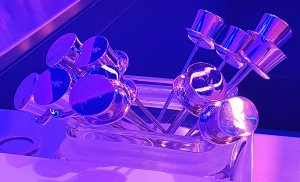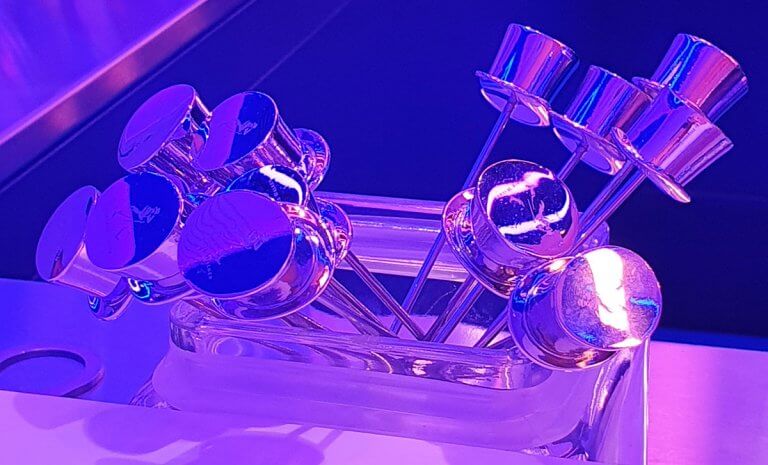 In the last 15 minutes of being in the room the lights changed to be, as our guide described it, an 'Instagram Moment'. That's not necessarily needed though as the whole tour is picture perfect.
Back downstairs to complete the tour and it's time to visit the shop. We were entitled to 10% off after completing the tour, so of course, I had to buy a few things.
The retail staff were also outstanding, offering to put items behind the counter for us whilst we carried on browsing. Upon paying, our items were placed into high quality bags (recyclable & reusable) and sealed with branded ribbon.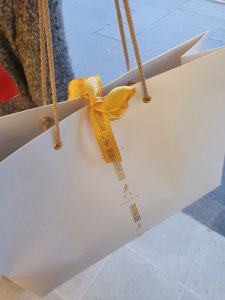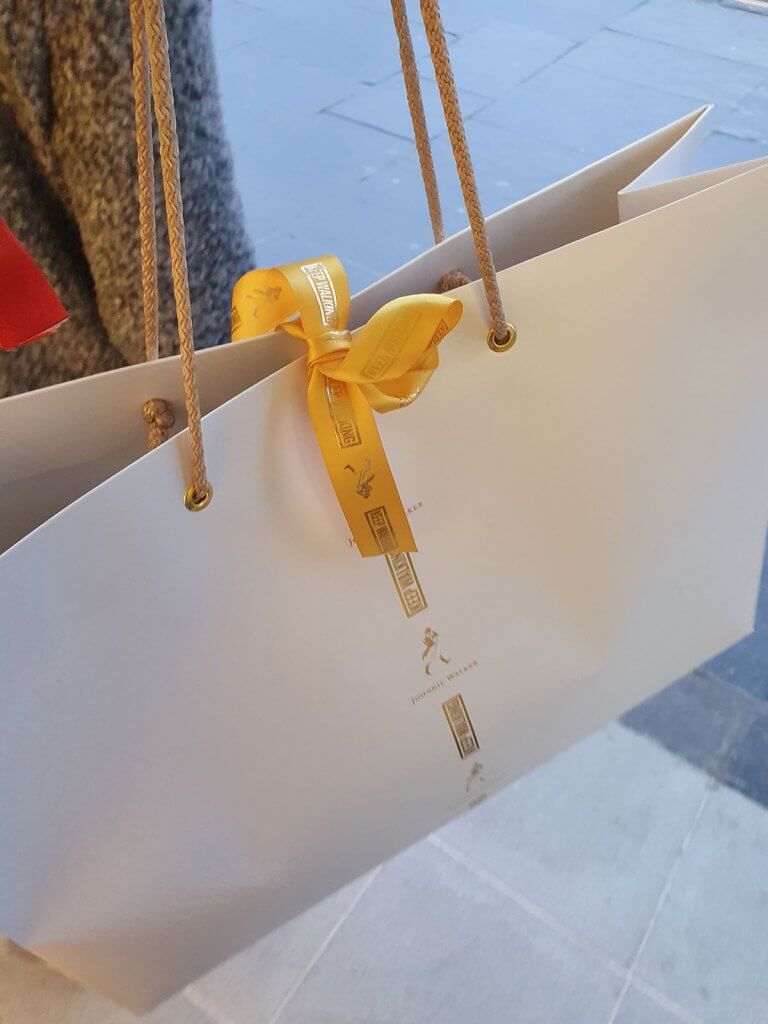 Sustainability was a clearly a big focus throughout the experience. Not a plastic cup in sight!
From start to finish, you are treated like a VIP and that's what makes the experience so special. Understandably not all brands can offer this kind of experience, but if global brands want to stand out then this is the case study of how to do that.
Our guide said that a previous guest had described the experience as 'Malt Disney'. Enjoyable, highly respected and a loved brand – who wouldn't want to be that?
If they carry on pulling experiences like this out the bag, Johnnie Walker is definitely going to 'Keep Walking'!


DROP YOUR CV HERE
If you don't see a role for you, still send us your CV because new opportunities arise all the time and you might just be what our client is looking for.
Check our current opportunities
See vacancies in chronological order, newest first
Permanent
South East
Up to £45k DOE
Permanent
Greater London
Up to £50k DOE
Permanent
Greater London
£NEG DOE