RDE is Europe's leading annual event for innovation and inspiration in retail design, marketing, branding, visual merchandising, architecture and shopfitting.
It is the all-encompassing event showcasing the full range of retail design and marketing solutions including lighting, surfaces, P-O-P, visual merchandising, design consultancies, fixtures and fittings, furniture, display equipment, packaging, insights consultancies and shopfitters. In addition to the wide range of suppliers at the show, there is an outstanding free conference programme featuring star-studded speakers in retail design and branding, shopper and visual merchandising sessions.
https://www.retaildesignexpo.com/
This year we took a giant step back from the red carpet, bright lights and living mannequins.
We jumped on the opportunity to soak up the innovation, discover new trends and do some all-important networking. Of course, not forgetting to enjoy ourselves along the way, collecting free merchandise and indulging on the most colourful doughnuts from Google at RBTE!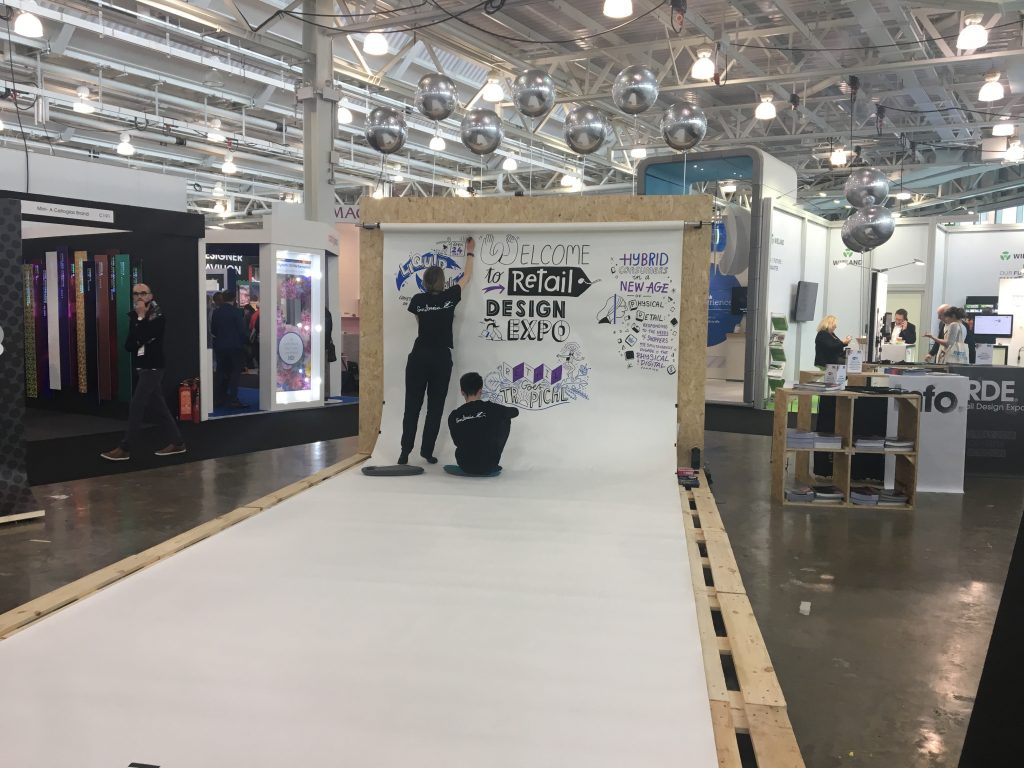 FITCH welcomed everybody to the show with the original medium of pen and paper. A live illustration feature that revealed some of the key issues facing the retail industry this year, showcasing the raw creative flair and steady hands of the artworkers that took part.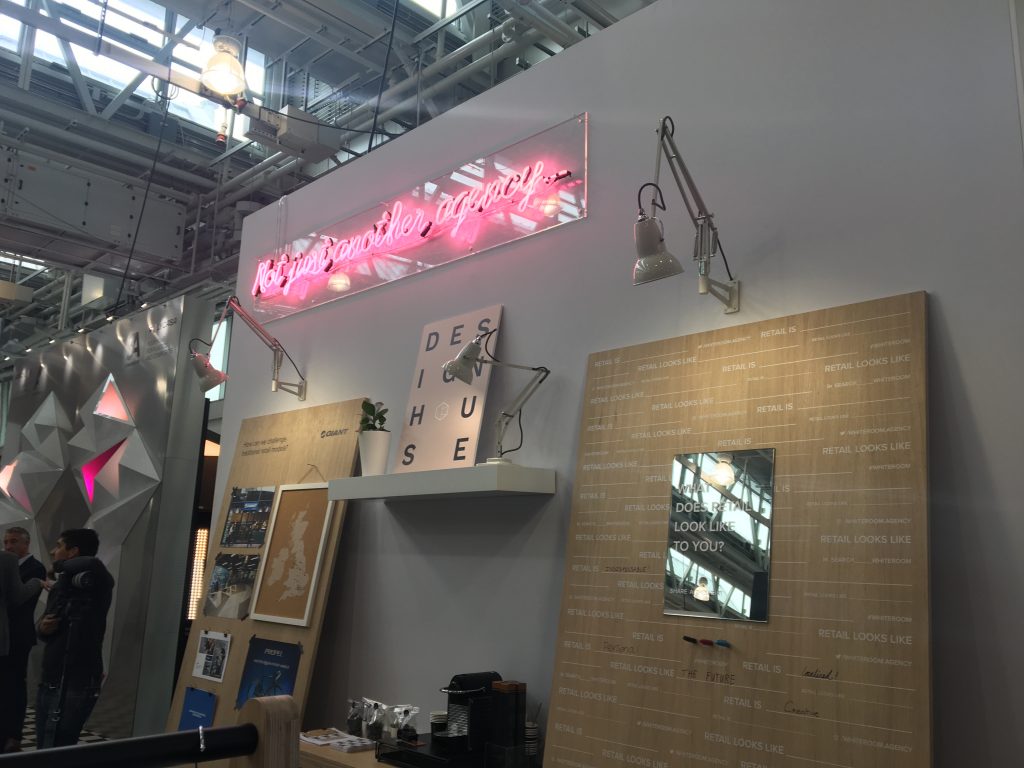 Retail design and branding communications agency Whiteroom were not easy to miss. If you weren't lured in by the sweet aroma of coffee, then the neon lights and youthful design aesthetic were to blame. Greeted by a friendly set of faces and freebies, Whiteroom had certainly mastered the art of attracting millennials and Gen Z by designing a stand that looked good from every angle.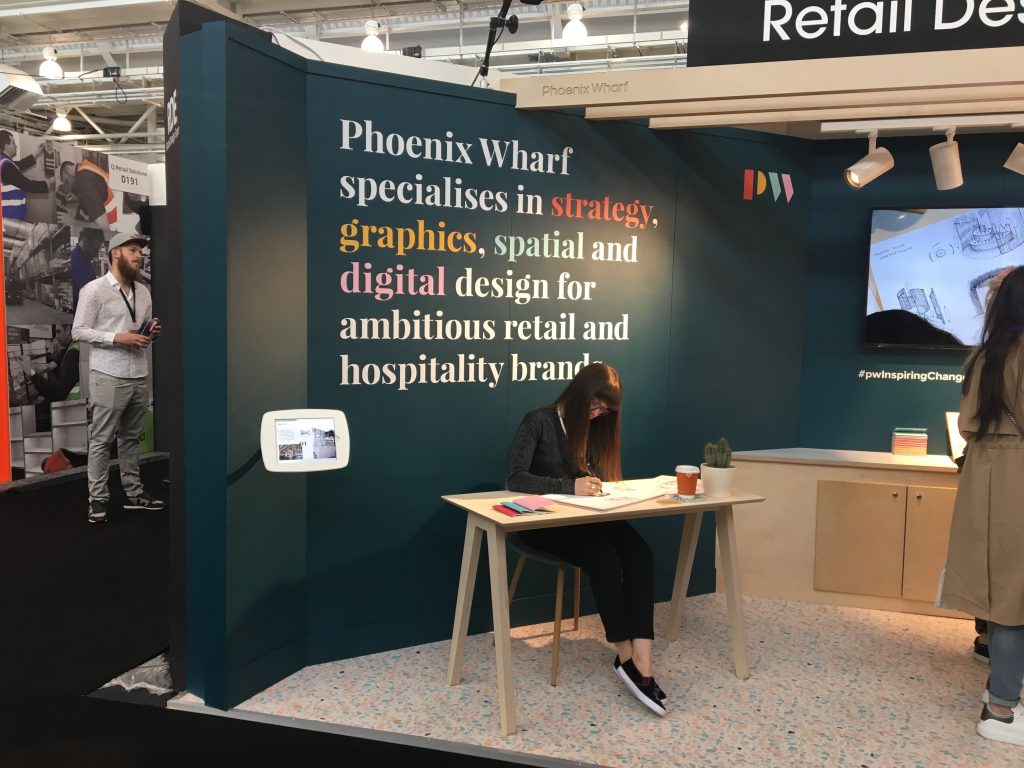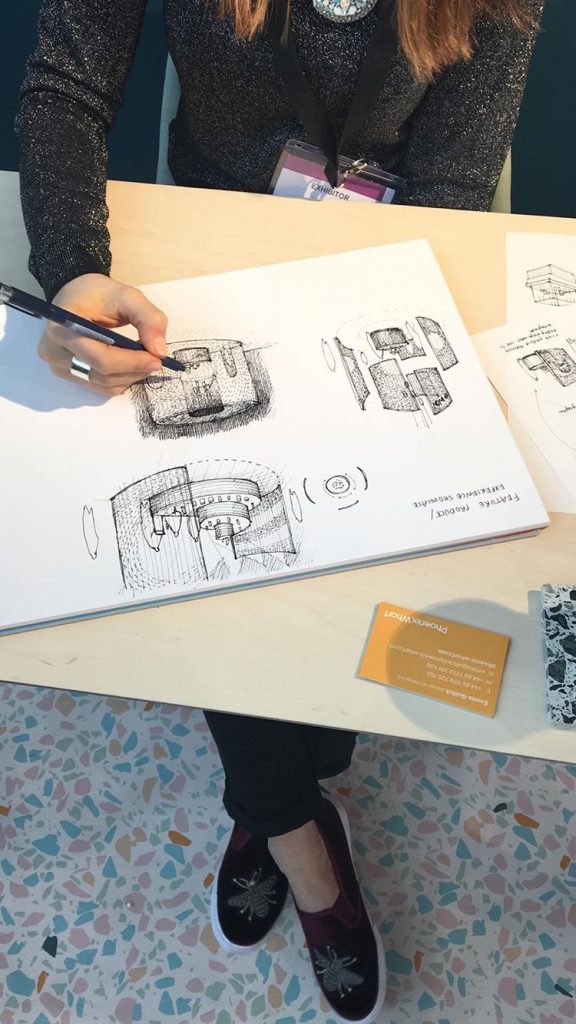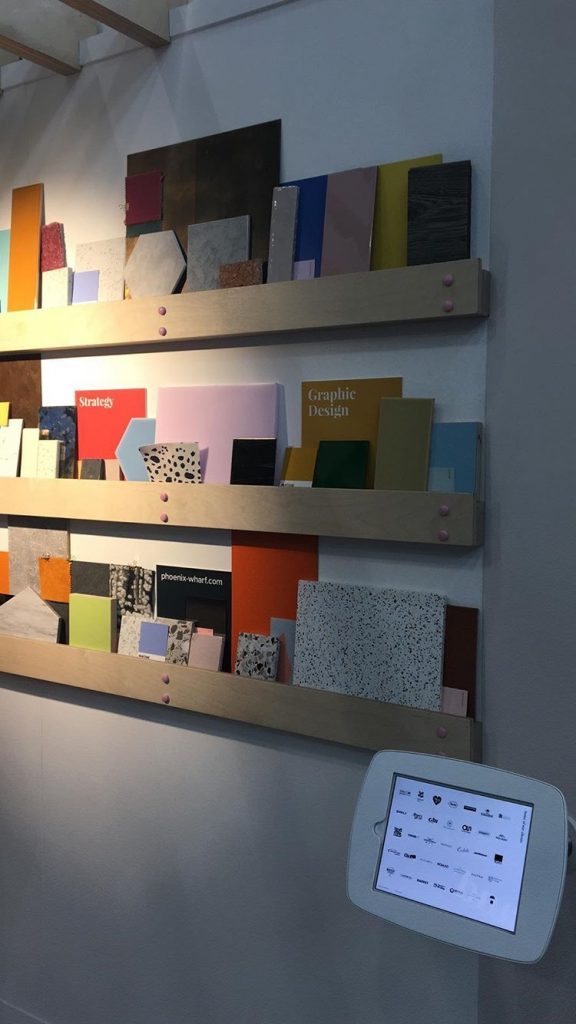 Pheonix Wharf is a young Bristol based creative studio. Their stand, although acute to others, made just as much of an impact as market leaders'. Putting their talent under the spotlight intrigued customers and encouraged human engagement, in addition to an impressive wall of sample materials.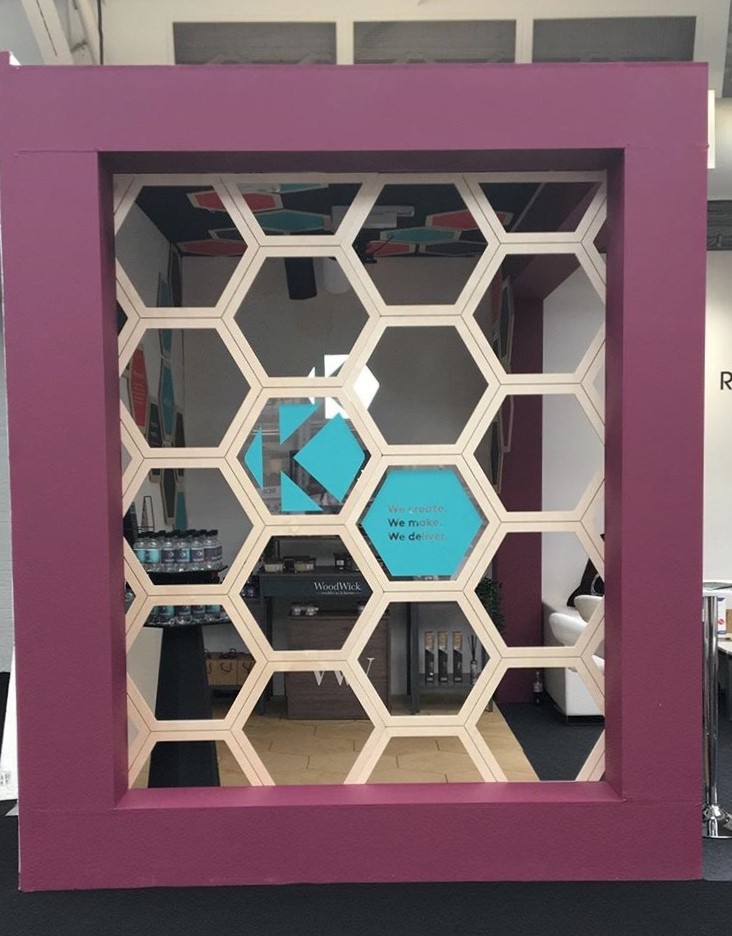 Retail display group Kesslers were back for a second year sponsoring the Visitor's Lounge. After a major rebranding earlier this year, it was great to see the Kesslers hexagon as the focal point of the stand creating a honeycomb framework. The space also showcased their project with Woodwick candles and demonstrated 3D projection technology as a new feature of display. If you've not seen they're virtual showroom tour yet, you won't be disappointed.
https://my.matterport.com/show/?m=n6bkBzVPMft&brand=0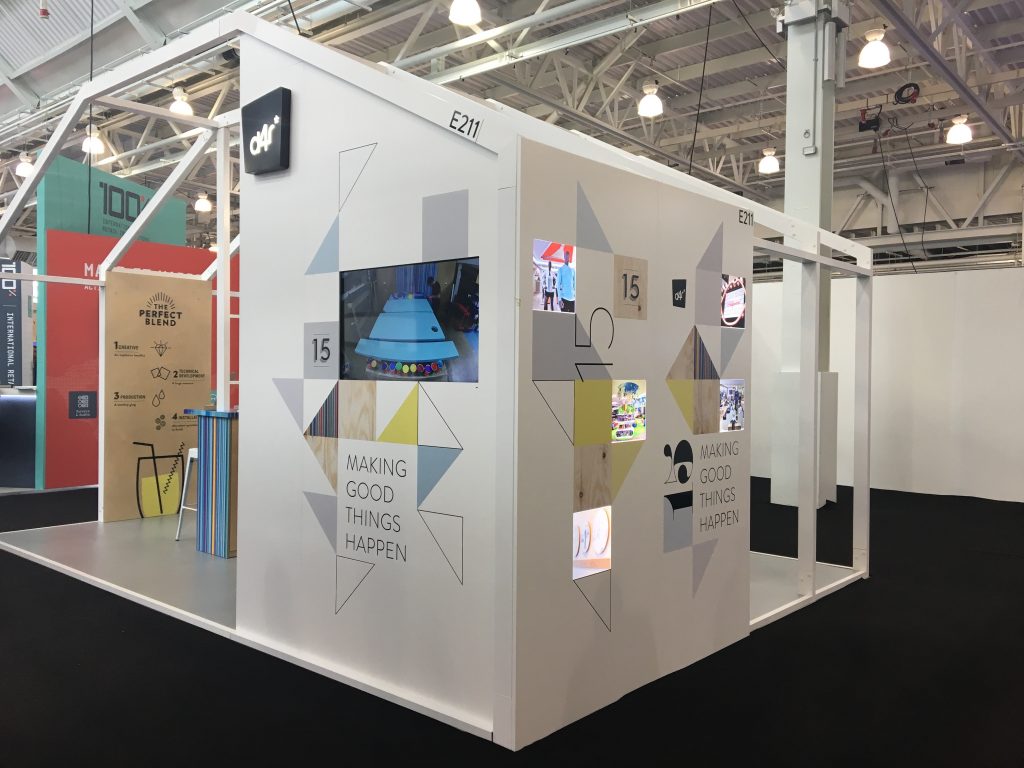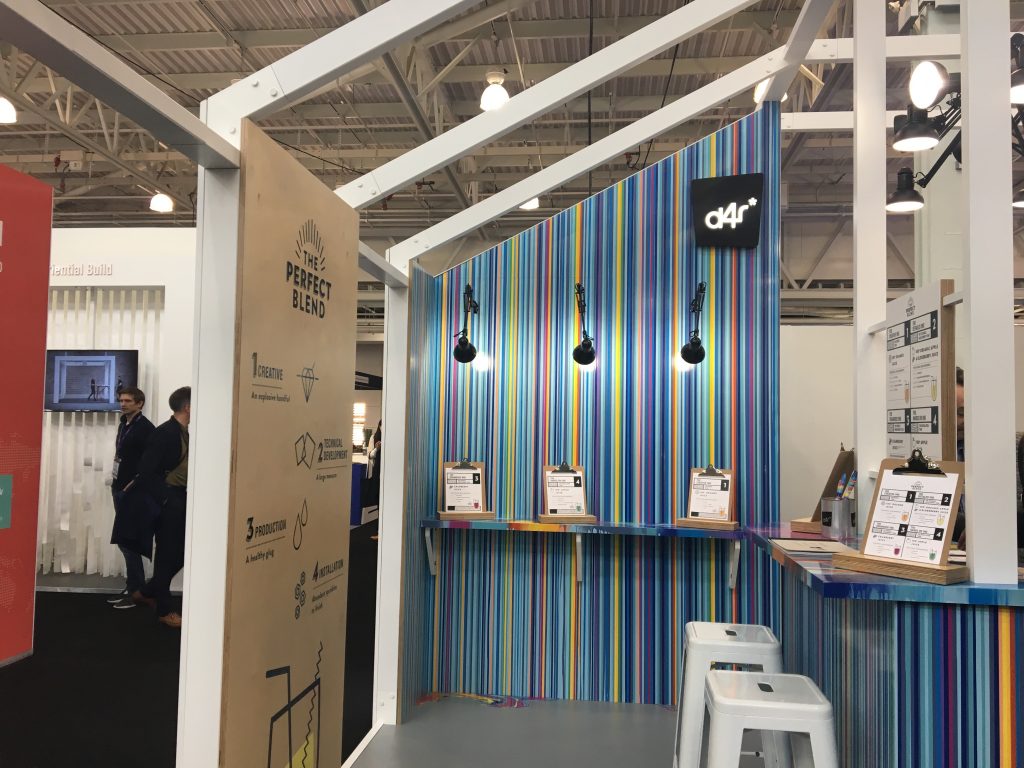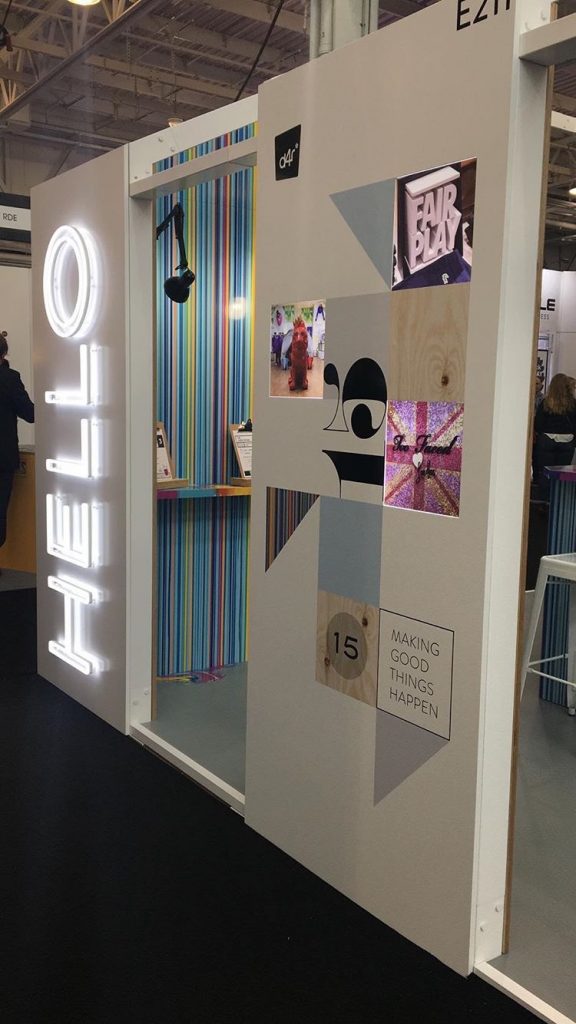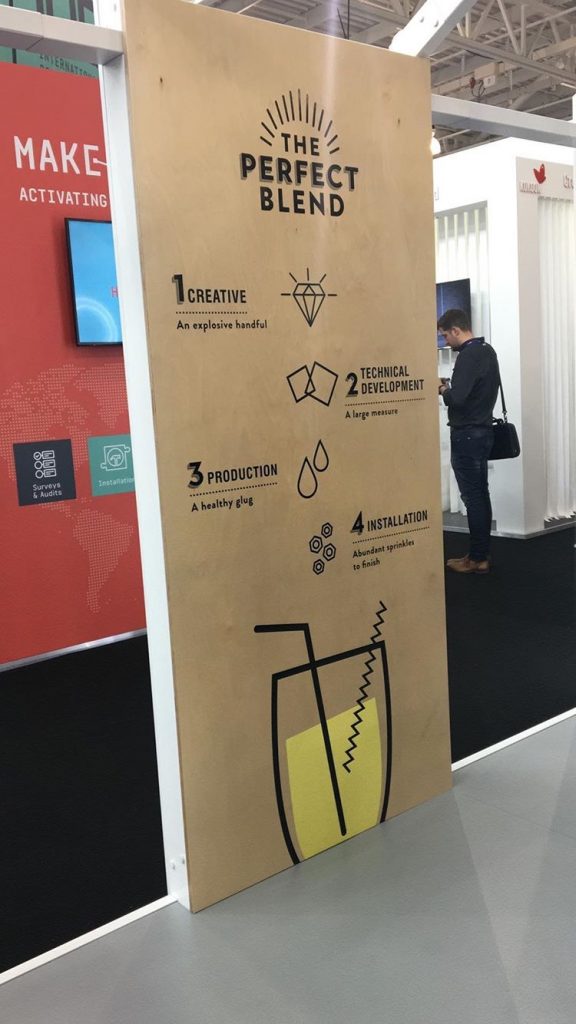 Design4Retail created a clean, colourful and creative space. Offering freebies in the form of jelly beans packaged as miniature paint pots, LED lights and screens perfectly complemented the white open roofed framework. My favourite feature of the stand followed the paint theme with multicoloured vertical stripes helping to create the illusion of a dripping wall of paint, complete with an over spill of colours on the floor. Another smart feature advertised their services as 'The Perfect Blend' a cocktail of processes to create the finished project.
https://www.design4retail.co.uk/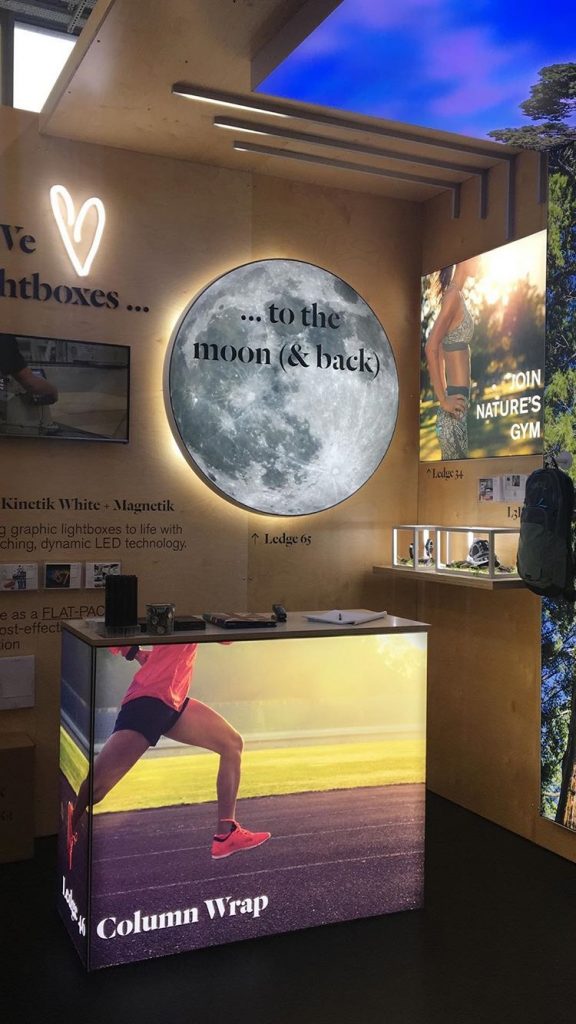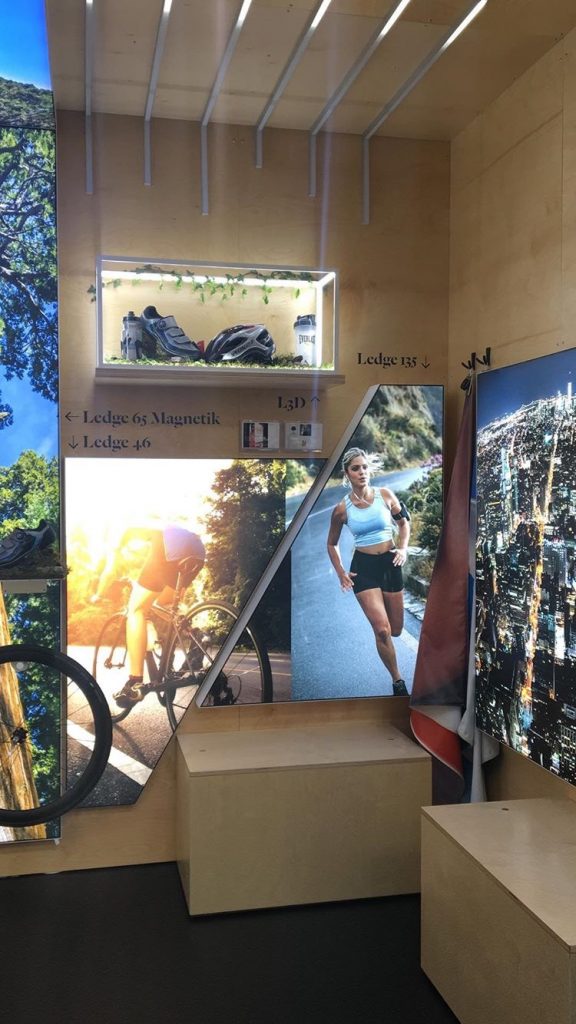 Unibox reinforced their level of expertise and design talent, showcasing their latest development in digital signage, Kinetik. Other elements of their space perfectly demonstrate their creative vision and diversity.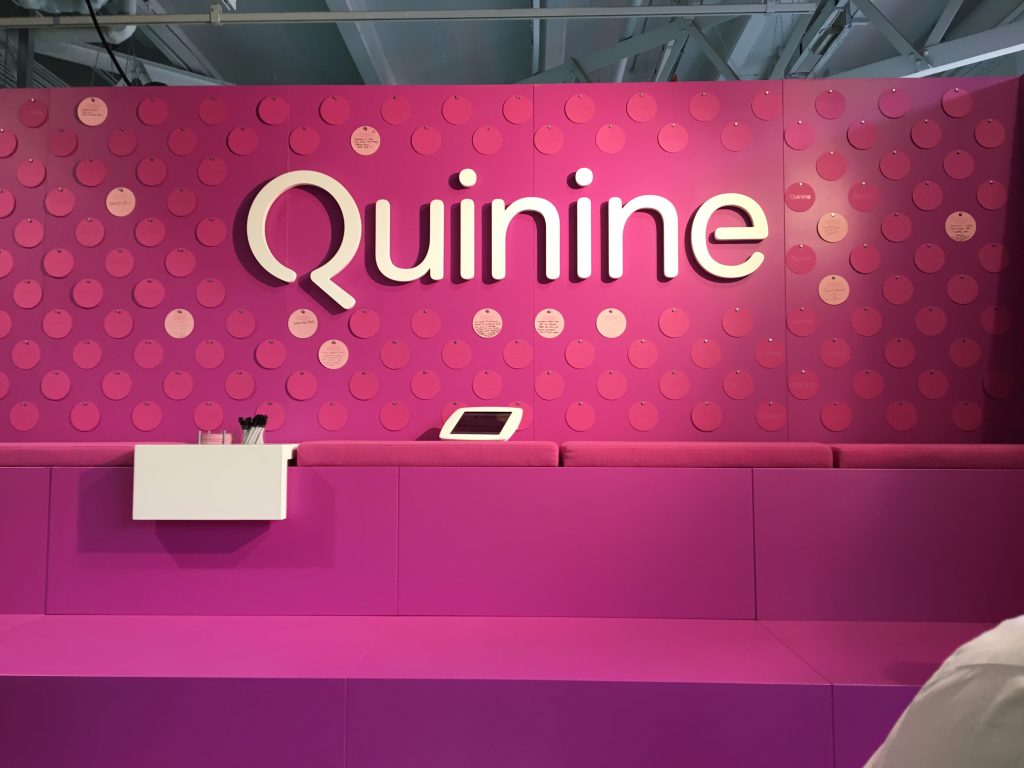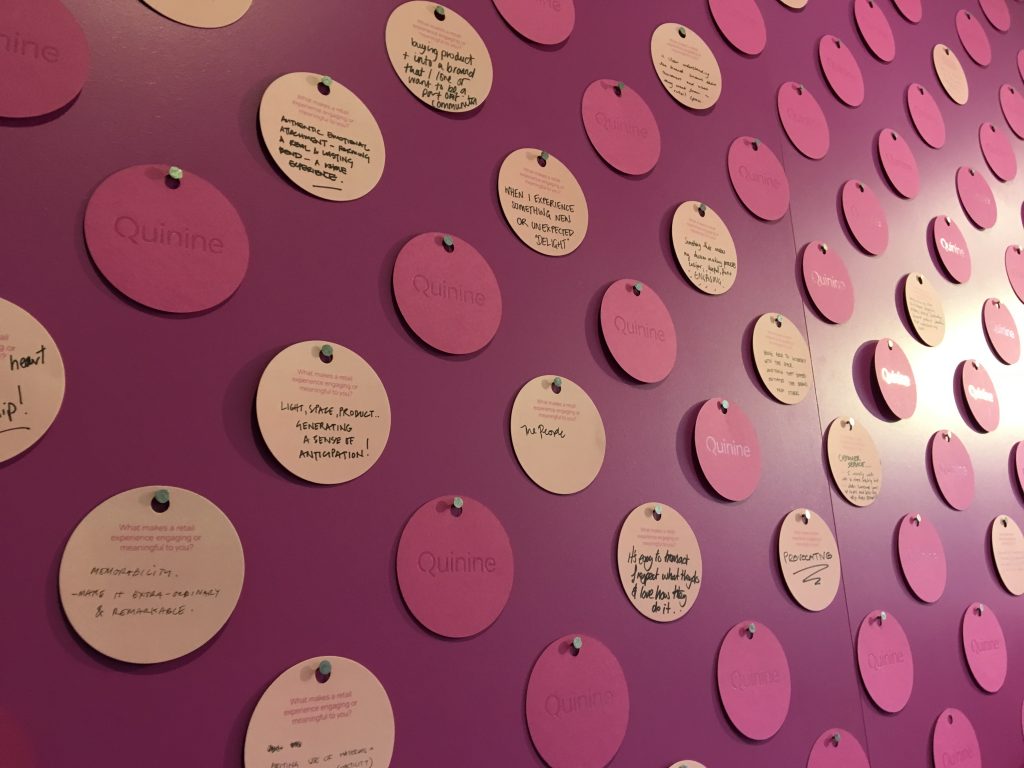 Retail experience consultancy Quinine sponsored the Retail Design and Branding Case Study Conference stage. In addition to the bold set up and in-your-face branding, Quinine asked 'What makes a retail experience engaging or meaningful to you?' filling their stand with RDE visitor's thoughts and opinions. Tiered seats formed a relaxing space at the rear of the conference area, safe to say they were the most comfortable seats in Olympia.
You can discover more of our footage on our Instagram RDE Highlights!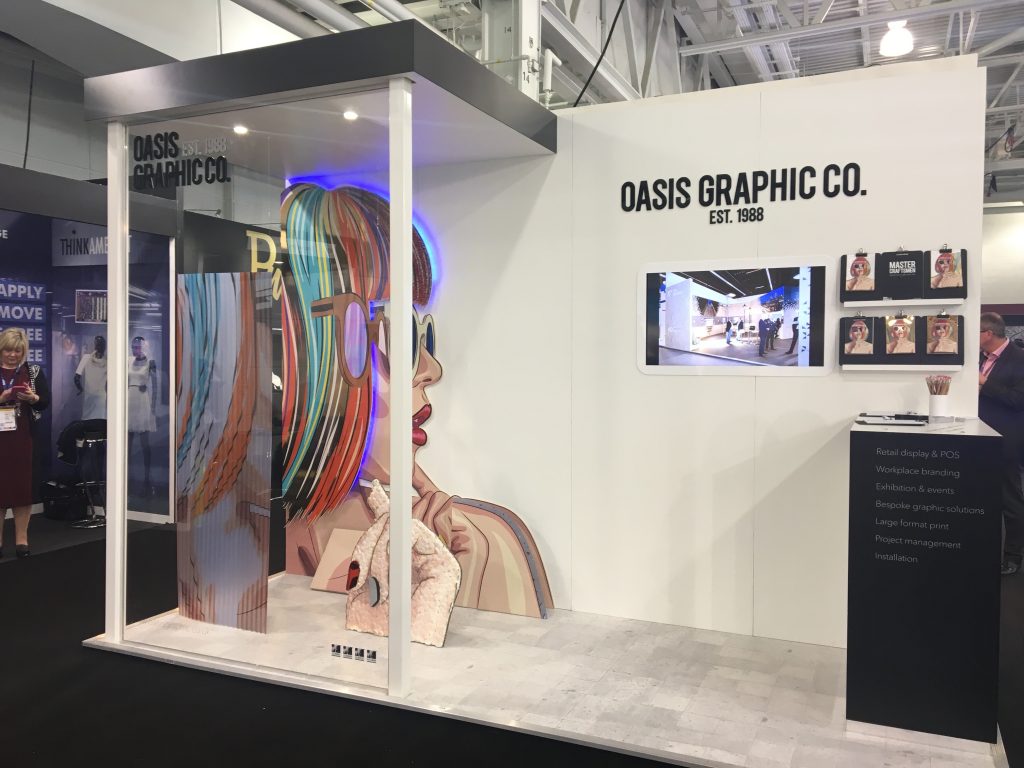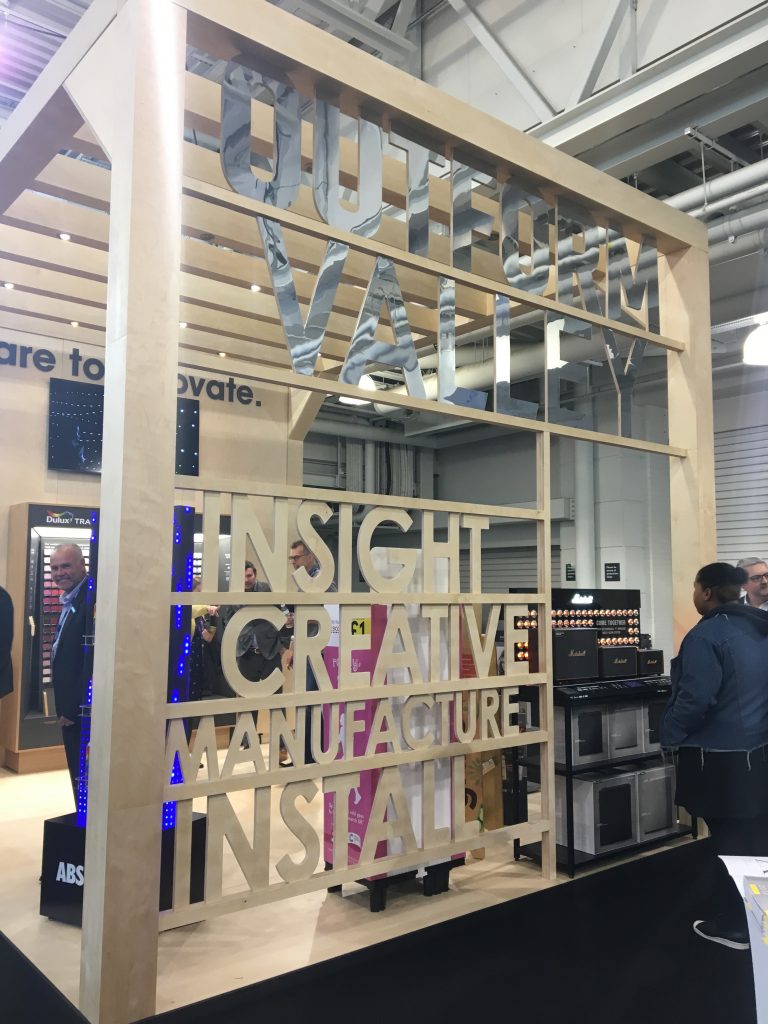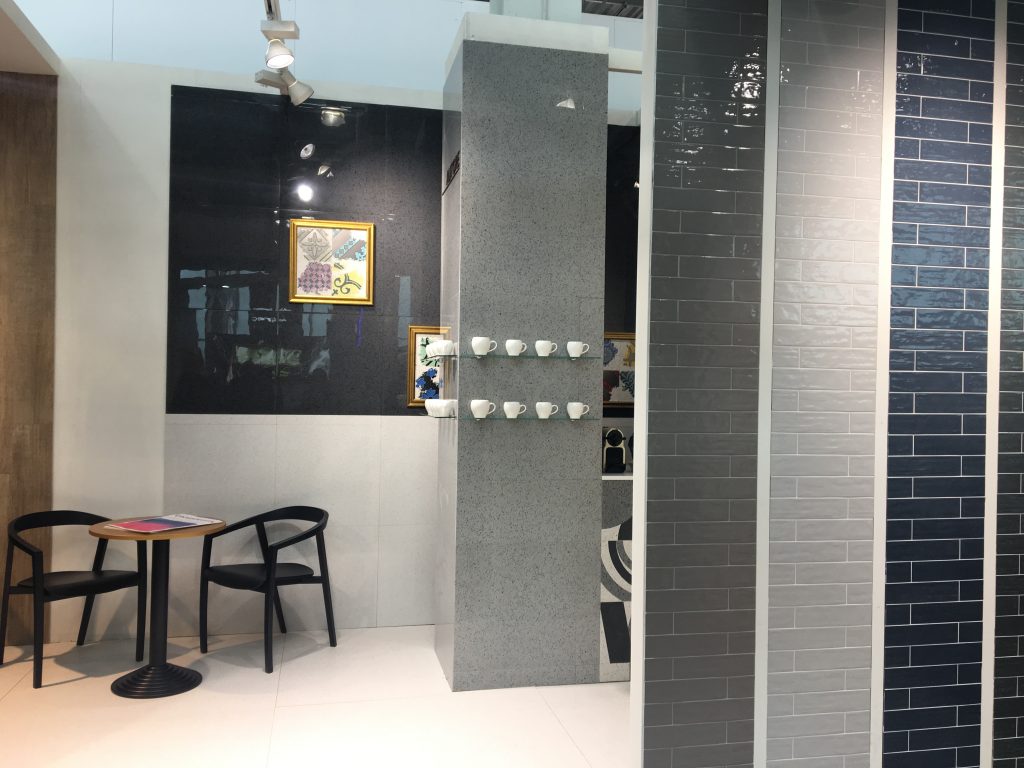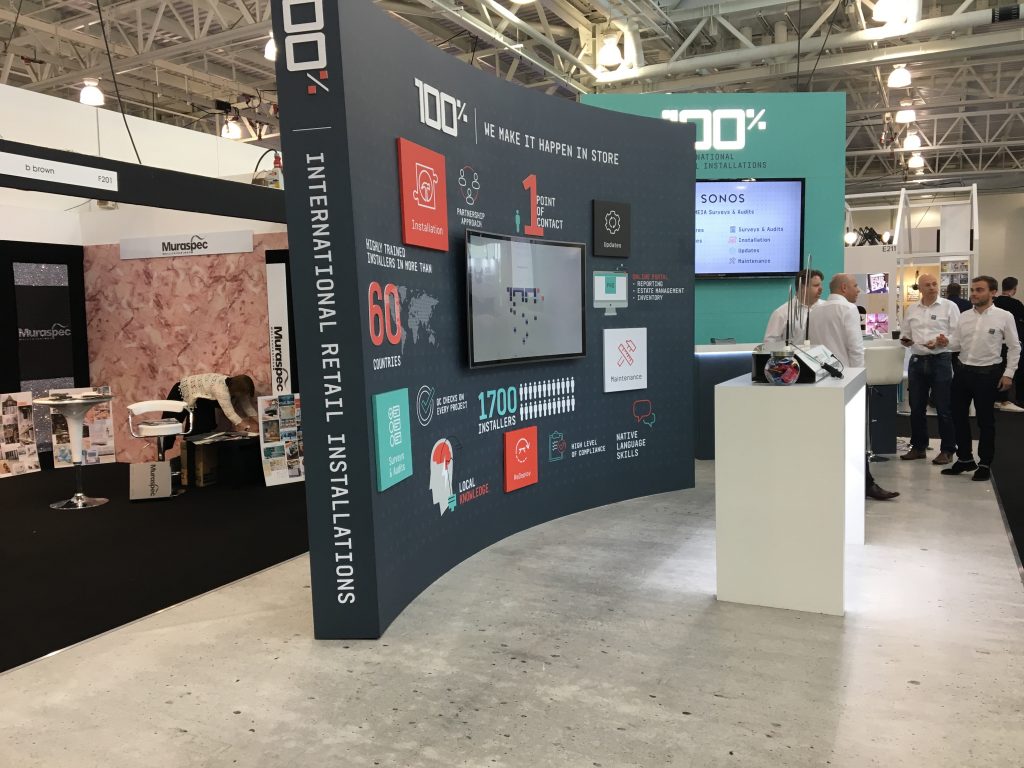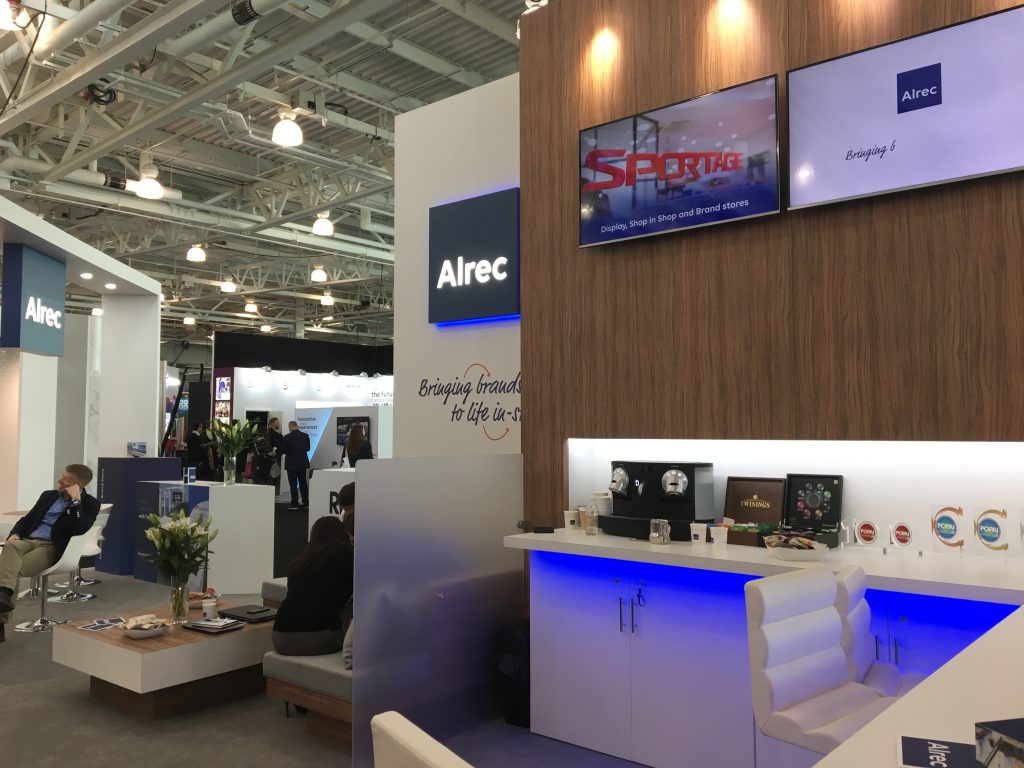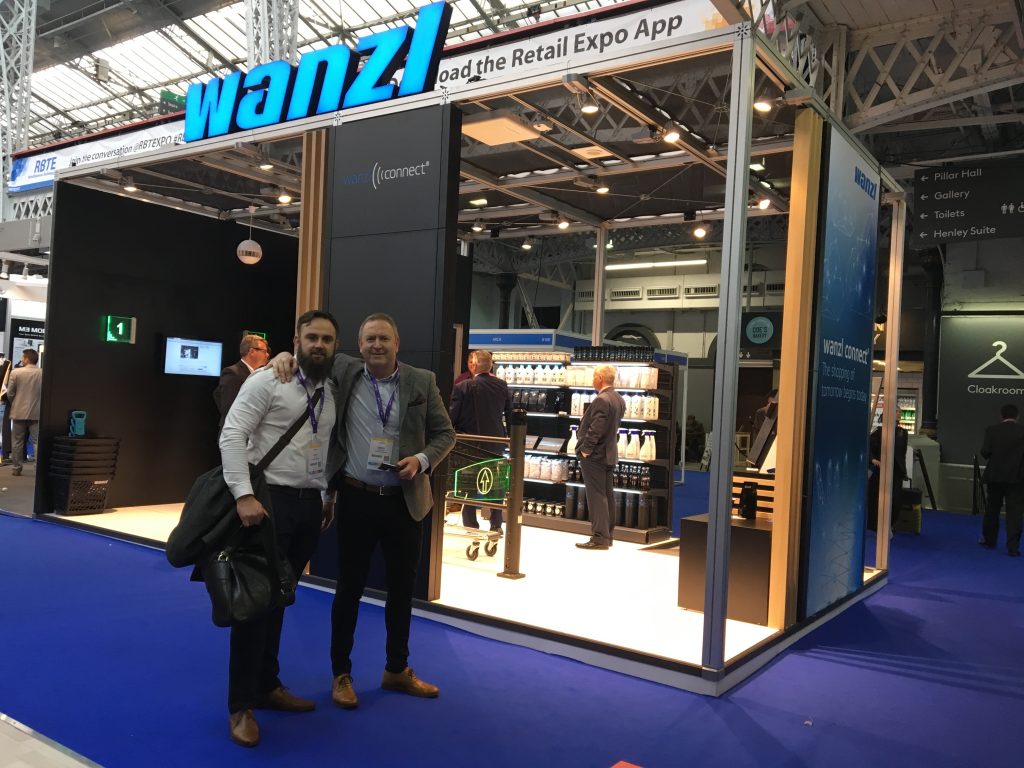 We even managed to catch the end of the seminar speakers from Day One. Alex Schlagman, from savethehighstreet.org delivered a presentation discussing The Future of the Highstreet.  Whose advice to high street retailers was to take advantage of technology in attempt to build a community around your brand and make your business more discoverable (ie. a bike store hosting a cycling club, or a book store a reading club). He recommended platforms like Google's My Business and highlighted the importance of social media, we should all utilise these free platforms as a great way to showcase your brand and supply you with online marketing data. From such data and analytics, you are then able to set and achieve objectives, developing your business and digital strategy. Alex further encouraged the exposure of brand identity and developing a personality for your social profiles. He suggests that videos are an excellent way of reaching your audience and exposing personalities of employee's and culture of the brand.
A panel discussion about The Store of the Future followed between some big names in the industry. A lot of mixed opinions conflicted surrounding the subject of The Store of the Future, Sigrid Brewka-Steeves Adidas' Design Director Retail proposed that it would be unrealistic to define such a store, as Adidas look to continuously evolve their retail environments. A large focus of the discussion was to consider the consumer's wants and needs, how more control will be given to the consumer and how the new generation know what they want but are unsure what it may look like therefore it's the retailer's objective to present that to them. On the high street today, the large flagship stores are turning in to community spaces where the consumer's can discover and communicate with each other more about the brand. Convenience and service were discussed as important factors to consider when looking to the future. Customers will require a seamless store experience; more investment will be put into employees to generate a higher quality of service and ques to be a thing of the past in order to create the "wow" experience for store customers.
DROP YOUR CV HERE
If you don't see a role for you, still send us your CV because new opportunities arise all the time and you might just be what our client is looking for.
Check our current opportunities
See vacancies in chronological order, newest first
Permanent
West Midlands
£25k plus benefits
Permanent
London
£22k-28k
Permanent
North West
£19k - £21k DOE